Work with Mary on Your Next Event

Mary Nice is a highly sought-after international keynote and workshop speaker and a leading marketing strategist who has led digital marketing programs for prestigious international companies, including the Walt Disney Company, Unilever, Kraft Foods, and Kimberly Clark.
Before starting her own successful consulting practice, Mary had the coveted position of Digital Marketing Director at Walt Disney Parks and Resorts, where she led a range of innovative digital initiatives, including overseeing the Parks' digital marketing strategy, establishing the digital marketing analytics practice, and starting the first social media listening program for the Walt Disney Company.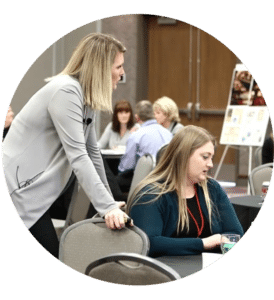 Mary's career understanding of building programs that motivated consumers naturally drifted to teams as more and more clients began struggling with workplace retention and a lack of operational readiness and team alignment. In her research-driven, captivating virtual or in-person presentations, Mary teaches leaders and high-performance teams how to rediscover the joy in their work and find the leadership impact they desire, generating greater fulfillment, customer value and enhancing the all-important bottom line.
Throughout her career, she is honored to have worked with clients at some of the most renowned universities, including Purdue University, Arizona State University, and her alma mater, Auburn University. She has delivered programs for companies including Visit California, Comcast, Disney Parks, and David Weekley Homes and has been featured in Business Insider and Time.
From nearly infancy, we learn that our value is in obeying the rules, finding the one right answer, and scoring the highest on the test. We learn the art of performing and conforming.
Those years, the most important in solidifying our thoughts and beliefs about ourselves, rob us of discovering what lights us up and experiencing the joy of our success. It also steals the motivation of employees in the workplace and the connectivity of teams that can drive breakthrough success.
In her signature program, Mary will leave you not only motivated to use your candid curiosity to find fulfillment in your career but with the tools to do the same within your teams.
Program Highlights and Takeaways:
The science of why those early years have nearly cemented your performatory nature.
Why obsessing about your performance robs you of fulfillment in your career.
How to reprogram and rediscover your joy at work.
How to use these tactics to bring a new level of connectivity and success within your teams.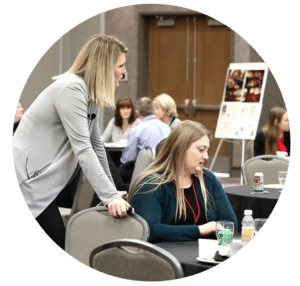 While the pandemic exacerbated stress, worry, and sadness for some, these feelings are nothing new. Rates have been trending upward for American workers since 2009. In other ways, some felt an unusual sense of relief during the pandemic. They could work more on their terms, miss fewer important family milestones, or build new routines that worked better for them. 
And now many ask themselves, how do I go back to the way things were? So how do we use THIS moment in time not to return to the ways things were but to reimagine ways of working together that encourage a resilient, fulfilled and connected workforce?
How? With Curiosity. 
Curiosity is the door that opens up the possibilities to feel more alive, connect with colleagues, and work together to accomplish things for your organization that you never thought possible. But, everyone must be playing from the same playbook, from organization-wide practices of leveraging curiosity to being able to know and voice what you need.
In this three-hour workshop, the team will first learn the key elements of curiosity, why it's radically absent from our workplaces today, and how to foster more of it. Then, teams will work together to put our learnings into action.
This immersive program will drastically improve your team's ability to thrive in today's workplace by reconnecting with themselves and their colleagues. Team members will come together to create a space where employees are excited to work together.
Workshop Takeaways:
Team members will learn how curiosity can be the antidote to disconnection and feeling stuck.
Team members will learn proven practices to leverage curiosity at work.
Team members will leave energized and with tangible experience, knowing that work is more fulfilling and fun when we do it together.